There is 2 more chaos berzerkers that I need to paint... but, finally, I can't resist the urge to paint this beauty... so, there goes my last vanilla berzerker and their aspiring champion... here comes the Daemon Prince.
At first, I was searching high and low for a decent paint scheme that I could shamelessly steal, but unfortunately, I come across ... this...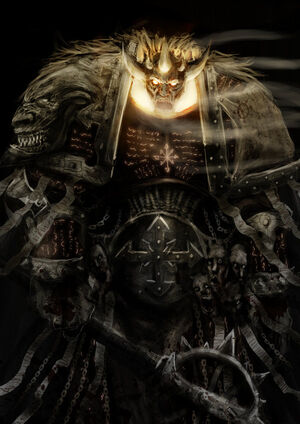 My first thought was, wow, thats a cool looking Daemon Prince (Just so you wonder who the fuck is this fella, he is
Lorgar, Daemon Prince and ex-primarch of Word Bearer
)
Next thing I know, I was searching for the "lighting effect" that makes the mini "glow", this leads me to research a technique named
"Object Source Lighting" (OSL)
and then, I come across this...
http://www.coolminiornot.com/forums/showthread.php?37830-quot-Deep-end-of-Object-Source-Lighting-a-mini-Diorama-project-and-OSL-experimentation-quot
I was thunderstruck by it's sheer awesomeness, so I decide to do my own poor-man version of this mini...
Below are my work in progress, it's still crude and I might consider to strip it and repaint if things goes awfully wrong... and since I do not have a decent camera at the moment, please bear with the blur pic and consider below as a teaser =p
After finished the head (yeah, it sucks, big time...) I realize that, leave all the part black is totally un-cool, I might need more..light source so I can paint some color on the other part of the mini... and then an idea struck me.. hey, since I'm working on a chaos undivided black legion army... why don't I make some glowing chaos icon so it can serve as light source... one thing leads to another, and there.we.go....
I'm planning to make icons of all four chaos god on the wing so I could paint and highlight the wing, the conflicted Chaos God icon will be on opposite side of the wing so they won't... well, conflict each other, and by painting on the inner side of the wing, I have "light source" that can bring some color on the body so the whole damned thing won't look so dull and unfinish.
That's all for the moment =)
edit - 29 oct 2011 : More painted icon and shots for this piece on
http://40knoobtonoob.blogspot.com/2011/06/three-weeks-of-painting-and-it-turns.html